Boost production with robotics.
Collaborative robots are safe, flexible and easy to program.
Operators with little or no programming experience can quickly program the UR robot arms thanks to patented, intuitive 3D visualization and simple hand-movement of the arms for teaching waypoints. For the advanced programmer, a scripting language is also available. The days of hiring expensive programmers to train a new task is over.
Cobots work alongside humans without additional safety hardware.OSHA still requires a risk assessment, but more than 80% of UR arms in operation work alongside humans without additional safety hardware. In cases where safety hardware is needed, common industrial safety devices like laser scanners or safety mats can be easily implemented.
Robots are agile tools in an environment where production needs vary. They can often do more than one task in a facility and are quick and easy  to move around to different jobs.  They are fast to set up. Even with an untrained operator, unpacking, mounting the arm, and programming the first simple task often takes only an hour or two.
CoBots are intended to work safely next to human operators in a factory setting, performing human-scale tasks – in particular, jobs that are Dull, Dirty, or Dangerous ("The 3 D's").
Alleviate staffing shortages
CoBots are helping small- to medium-size companies alleviate staffing concerns, improve product quality, and generate bottom-line profitability.
There are a huge variety of grippers and end-effectors, from vacuum suction cups to multi-hand, servo/adaptive options with force/torque feedback sensors and tool-changers.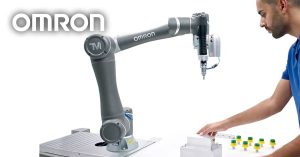 Collaborative Robot Safety Standards and Compliance Most cobots, including the Omron TM Collaborative Robot, have mechanical and control design features to reduce risk factors and
Read More »
Let us help find what you need.