RFID Interfaces​  |  RFID Tags  |  Readers   |  RFID Handhelds
Radio-Frequency IDenification (RFID) is a technology that allows for wireless communications between a tag and reader, commonly used for inventory tracking or component identification to a control system. Various frequencies of operation exist for different purposes, and tags may take any number of forms, such as ID badges, key chains, printed flat labels, and many others. Components can be broken down as a Tag (Transponder), a Reader, an Antenna, and sometimes an Interface. The Reader and Antenna are enclosed into a single housing or are 2 separate components.
Below is an example of the wide range of RFID products we offer. Contact us for help with selection and pricing.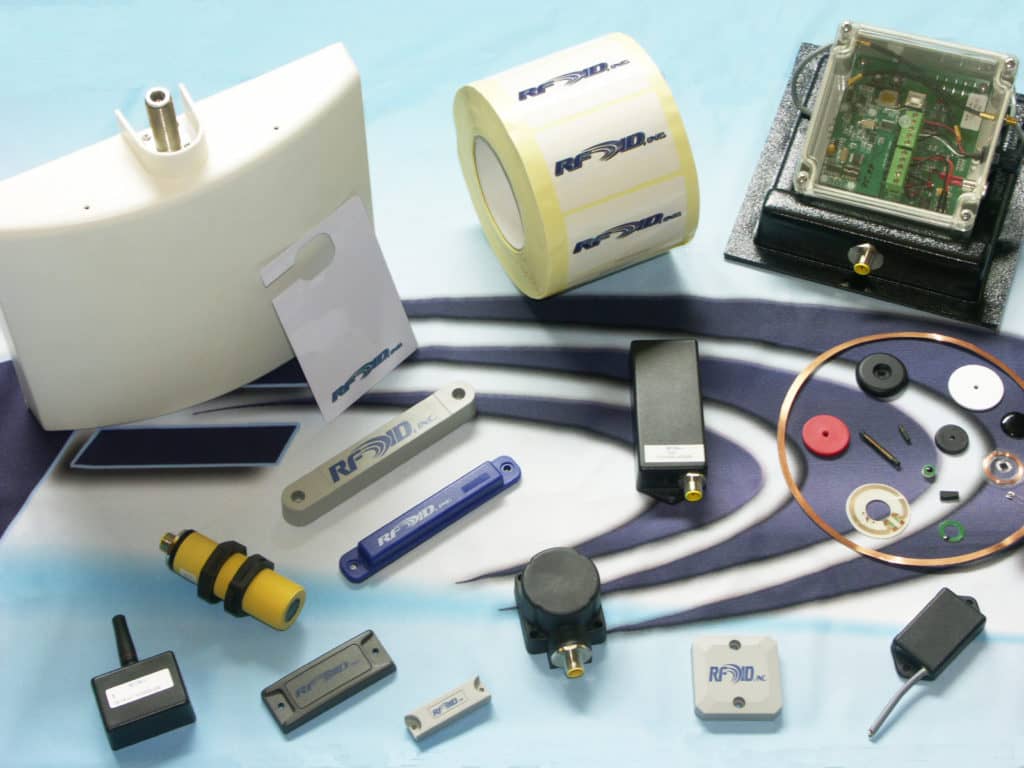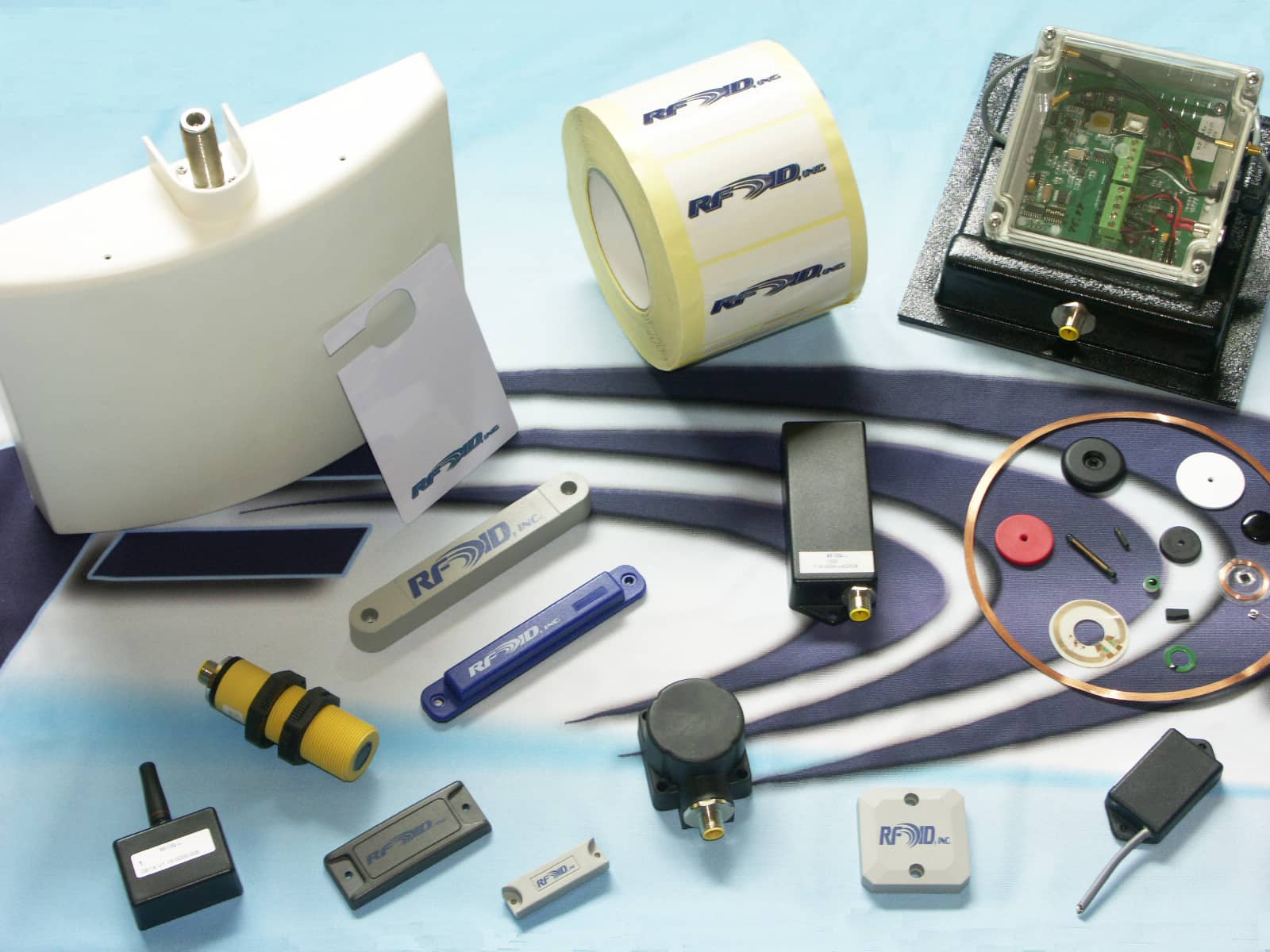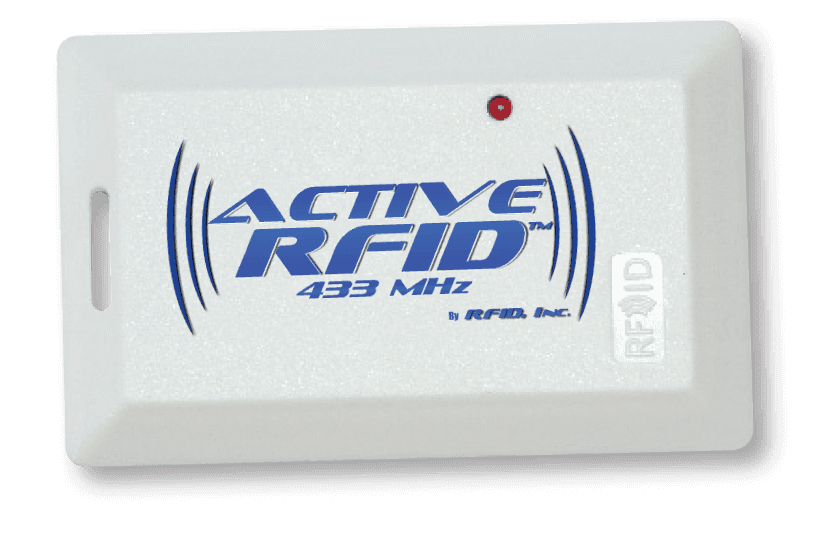 ActiveRFID 433 MHz Tags contain a battery and are thus capable of much greater read distances up to 2000′. Two of the four models have replaceable batteries, all of motion sensors to report data should they be moved, and external power wiring to exclude the need for a battery.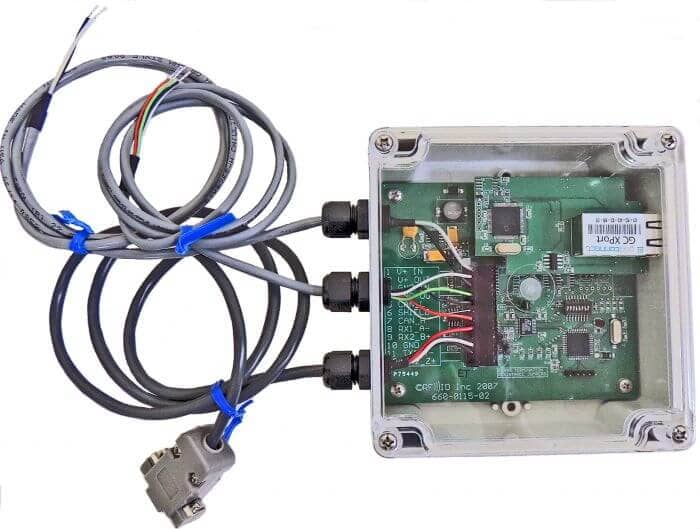 RFID Interfaces​
Interfaces typically manage a network of Readers (Smart Antennas) and provide communication protocols specific to a particular PLC manufacturer like Ethernet/IP & DeviceNet (Allen Bradley PLC's), Profibus & Profinet (Siemens), Modbus RTU and Modbus TCP (Modicon) although standard TCPIP Ethernet and serial communications can also be offered.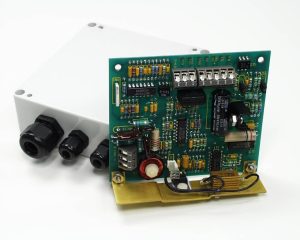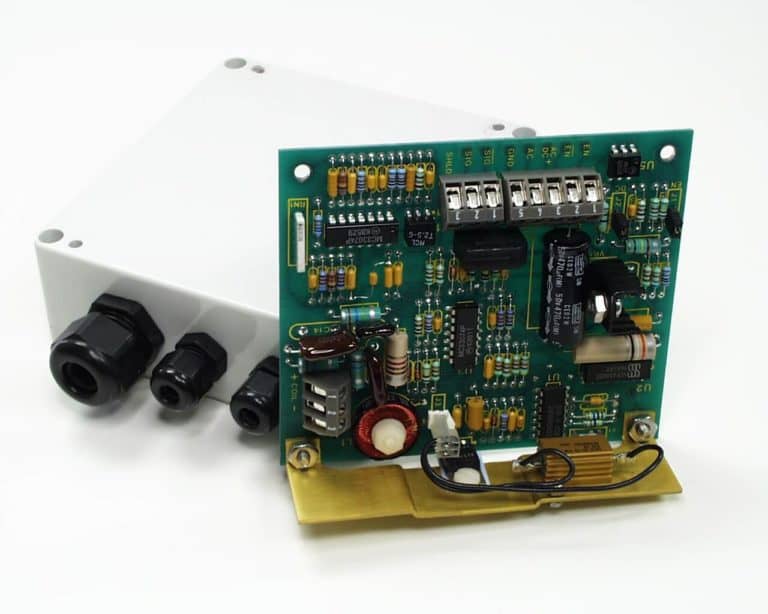 RFID Readers
RFID Readers vary from OEM modules to robust dedicated or networkable models providing communication protocols of Allen Bradley's Ethernet/IP, DeviceNet, Siemens Profibus & PROFINET, Modicon Modbus RTU & Modbus TCP, CANopen, as well as USB, Serial & TCPIP Ethernet. Readers translate the 1's and 0's of Tag data into languages another machine or human can understand, like TTL or ASCII bytes. Readers can have other functions, like I/O, sound a horn, illuminate a light, etc., or even logic tasks. Most often Readers are capable of serial (RS232, RS485, RS422), USB, TTL, Wiegand and Ethernet communication protocols.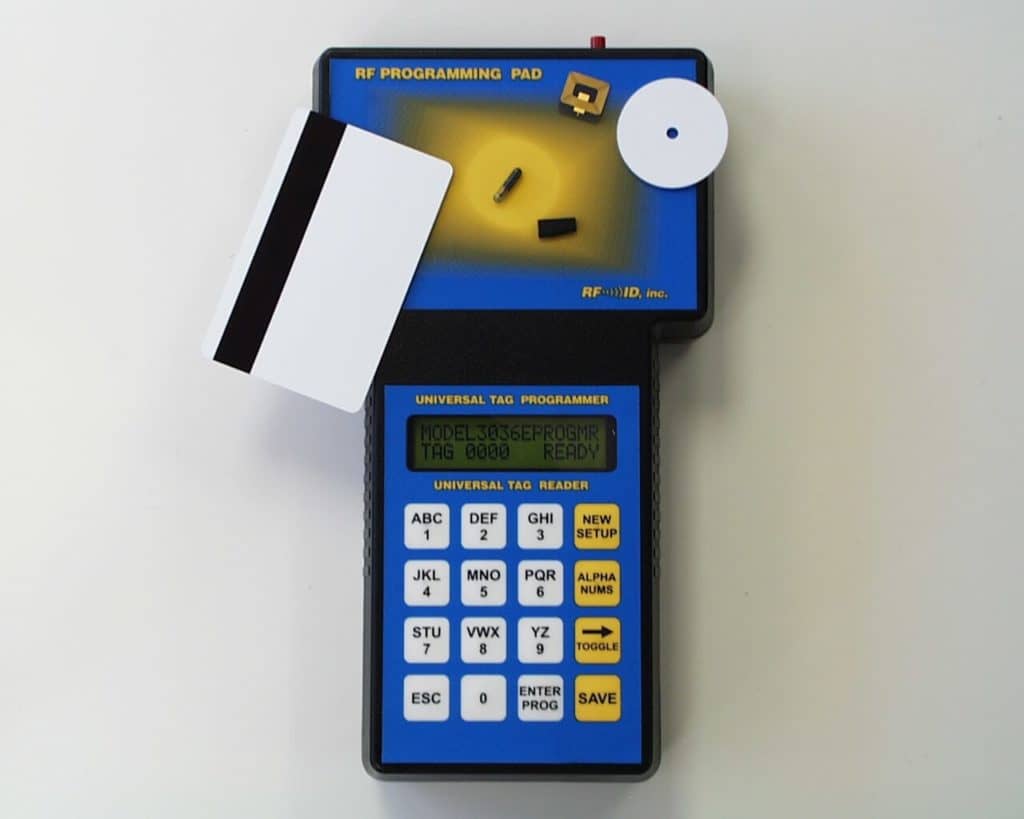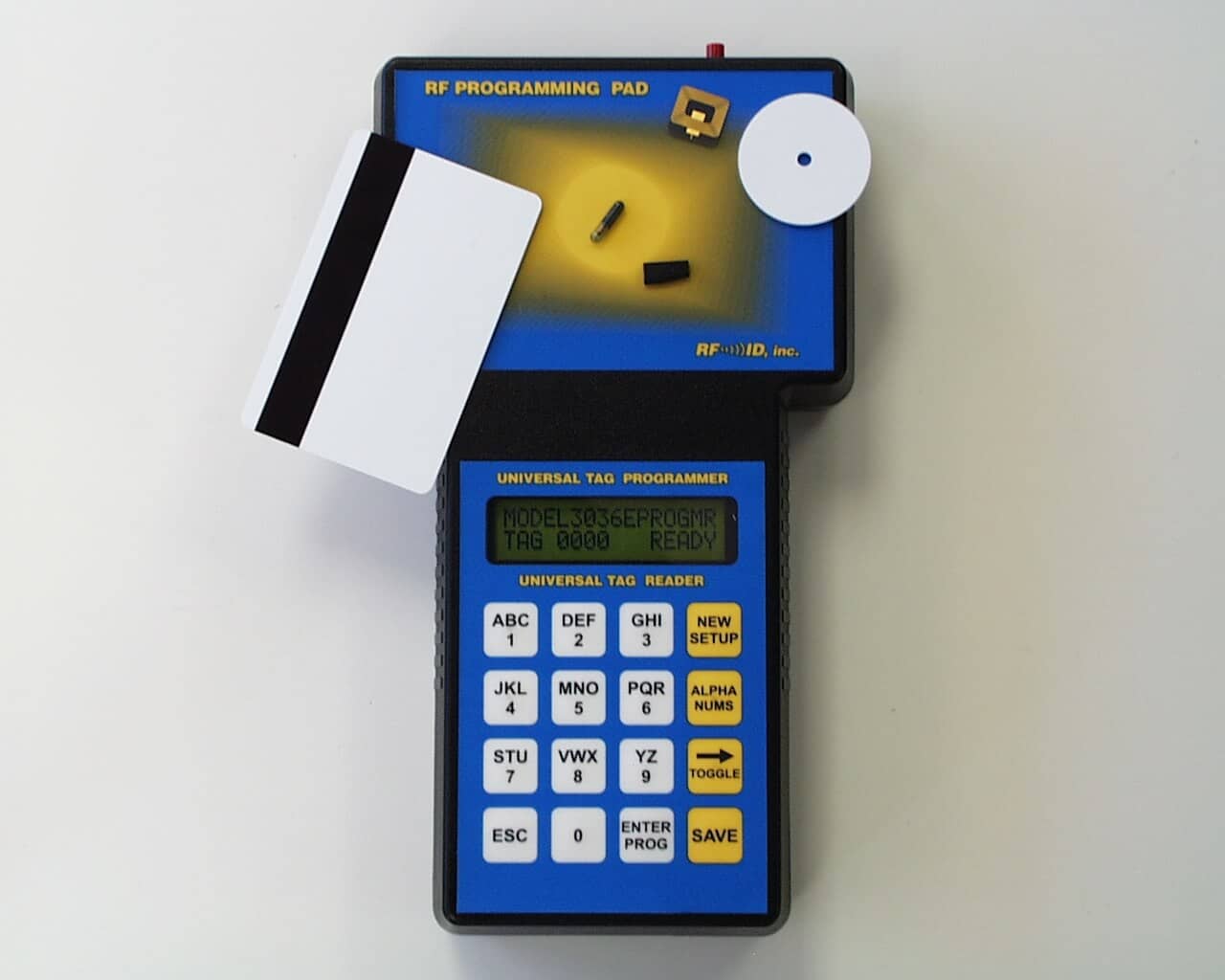 RFID Handhelds

​

Handheld RFID Readers offer a way to remotely be able read Tags, saving the data or further transmitting RFID Tag data via WPAN or Bluetooth, or via a wired USB connection. They are convenient for testing Tags or used has a hand held for RFID Inc. LF 125 KHz RFID Tag Programmers, which are easy to use and require no software.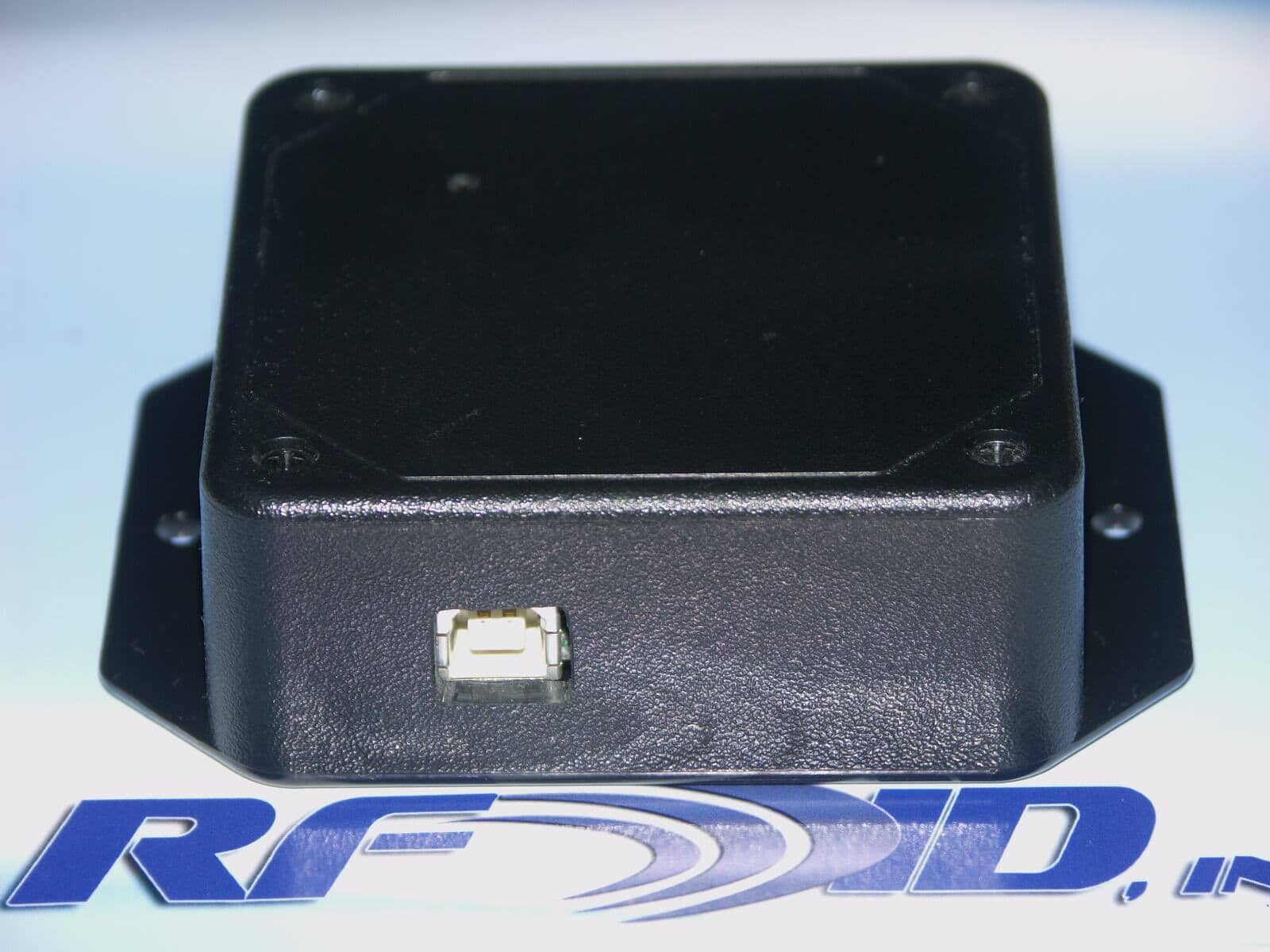 RFID Programmers​
RFID, Inc's LF 125 KHz Desktop Programmer is a convenient tool for programming RFID Tags and powered via USB. They also offer USB or RS232 Desktop Programmers and don't require software or future updates regardless of your operating system. RFID, Inc. also offers a free terminal program of its own.
V680 Series RFID Systems

The V680 series features electromagnetic induction and proprietary technologies to enable high-speed, high-reliability communication. This series of devices includes many useful startup and operational features, such as the visualization of communication status.
Even in global markets and manufacturing bases, these devices comply with the radio laws in all major countries to enable a consistent global deployment that provides traceability and production information management capability.
Our wide variety of RF tags, amplifiers, and controllers enables the visualization of all kinds of manufacturing sites, which helps increase productivity and improve quality.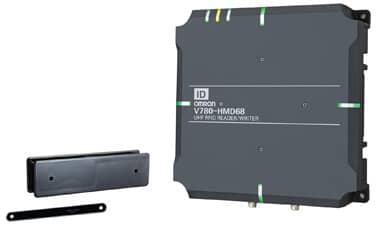 UHF Band RFID (920MHz) V780 Series​
Omron's V780 UHF RFID system is an easy to use long range RFID for unique identification of large objects like car bodies and on production lines with objects of various heights. Install into high-mix production lines and automatically adjust settings according to the environment. Can be installed without any RFID experience and can be quickly installed and tuned.
Let us help find what you need.