Custom grippers and EOAT solutions designed for your exact requirements
A Partner In Your Success
From our state of the art Robotics Technical Engineering Center (RTEC), MSI TEC is able to develop robotics solutions that are customized for your unique application. From developing custom end of arm tooling and grippers to designing and building mobile robot bases, MSI TEC has the engineering talent and resources to help you become more productive and profitable. We developed a Vacuum Suction Gripper Kit that is a great starting place for common applications. And we manufacture one of the most flexible mobile bases for Universal Robots on the market. Built from heavy-duty welded steel, the mobile bases or pedestals have adjustable height and are designed to allow the UR collaborative robot to be easily moved around the product floor. We can also help with the Risk Assessment planning process for your system. Our robotics engineers are happy to sit down with you to discuss pricing, requirements, and processes to help you determine if robotics are right for your business. And we can provide resources for financing if necessary.
MSI TEC Robotics Products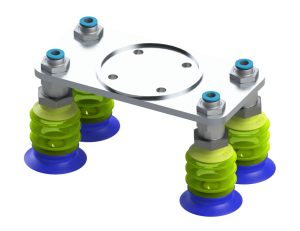 MSI TEC's End of Arm Tool (EOAT) Vacuum kit provides everything you need to easily & rapidly set up a wide variety of end effector configurations to solve multiple applications and proof of concepts. Includes all of the required pneumatic components (valves, tubing, fittings) to complete a full vacuum solution. Compatible with Universal Robots e-Series robotic arms.