Safety Curtains  |  Safety Laser Scanners  |  Safety Mats
Safety is the number one responsibility of every manufacturer and the most challenging applications to ensure safety are those where personnel are required to access areas where hazardous operations take place, such as machining, welding, movement of industrial robots, etc. The best safety device offers maximum safety with minimum impact on machine operations – at the lowest possible cost. To meet standards for human safety around machines safety-rated components must be used in accordance with ANSI, ISO, ISA and OSHA standards standards and a risk assessment procedure must be followed. We offer a broad portfolio of safety products and solutions to help you maintain productivity while protecting your people. We highly encourage consultation with a professional when applying safety hardware to a machine or process and our engineers can provide expert guidance from components to consulting.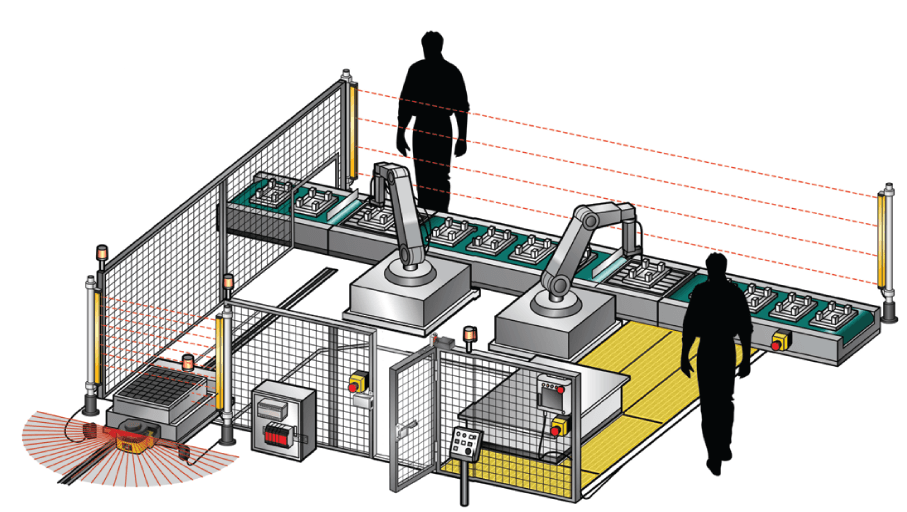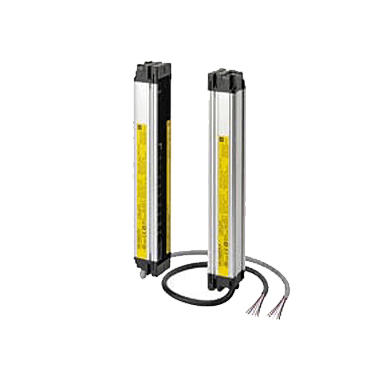 Safety light curtains are a method of safeguarding personnel around hazardous machines. Compared with traditional safeguarding methods like mechanical barriers, sliding gates and pull-back restraints, light curtains offer freedom, flexibility and reduced operator fatigue. They can simplify routine tasks like machine setup, maintenance and repair.The F3SG global light curtains offers advanced functionality suitable for a wide range of applications. The economy type offers simple on/off operation for basic applications. The F3SG-RA and RE both have a robust IP67 waterproof housing and the F3SG-RR has a IP67G oil resistant housing for demanding environments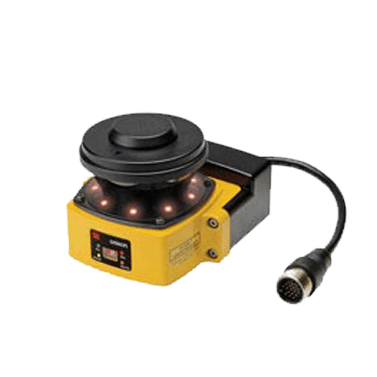 Safety laser scanners are ideal for guarding large hazardous zones and an alternative to light curtains, which take up floor space and susceptible to wear and damage. Safety Laser Scanners are a cost-effective solutions for new machine installations or for retrofitting plants and machines. They are compact, user-friendly, and offer seamless integration. Omron's Safety Laser Scanner has a low profile for installation in small spaces. It's the industry's first Ethernet-compliant Safety Laser Scanner and allows the user to check operating state and analyze the cause of an emergency stop via LAN.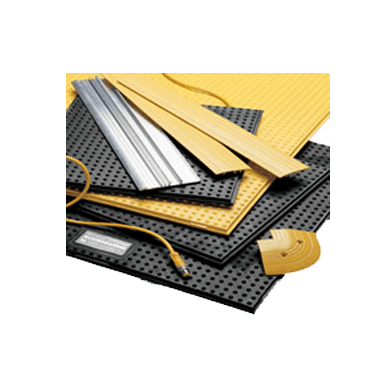 Sensing safety mats are used to monitor an entire hazardous area. When sufficient pressure is applied to the mat by a worker stepping on it, a stop signal is initiated to stop the machine. They can be used for Machine Shutdown by stopping the equipment when the mat senses a person or as start-up prevention by continually sensing a person inside the cell. They offer flexibility, quick access and can be the most economic choice because they eliminate the need to set up and remove mechanical safety barriers during operation and maintenance. Other options for perimeter guarding include interlocked barrier guards and safety light curtains. Omron offers safety mats, area guarding, safety edges and bumpers that are built for tough environments.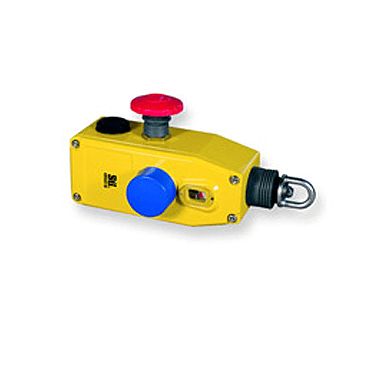 Emergency Stop Devices are designed to halt equipment functions in emergency situations, our E-Stop devices are a crucial component of a complete safety circuit. Omron offers three levels of 22mm Emergency Stop Switches that offer a variety of functions for enhanced safety and reliability. Rope Pull Emergency Stop Switches are ideal for applications with conveyor systems and across rotating machinery, and around hazardous areas. Ideal for applications that require long rope spans up to 200 m ( 656 ft.). Explosion-Proof Rope Pull Emergency Stop Switches are constructed of heavy-duty housing with the die cast housing and stainless steel eye nut for demanding industrial applications and withstands water and wash-down cleaning. 
Let us help find what you need.