Omron Hornet   |  Omron Adept  |  Sysmac Delta Robot  |  Yaskawa Motoman MPP Series
What is a Parallel Robot?
Parallel robots have multiple axes (at the tip) that move in parallel and have stationary drives and gears. They offer high precision and speed, and are generally used in pick & place applications. Parallel robots integrate the robot controller and servo drive, saving valuable floor space. Omron's Hornet and Quattro parallel robots are used in industries like packaging, food and beverage, healthcare and pharmaceutical. Omron Quattro series has four axes and a high payload capacity. The Hornet 365 series has 3 to 4 axes and payloads between 3kg – 8kg.  Yaskawa's Motoman MPP is a 4 axis parallel robot with a payload of 3kg.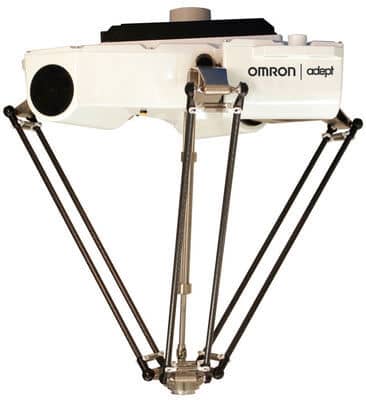 Omron Hornet 565 Parallel Robot
Omron's Hornet 565 is a complete robot packaging solution that integrates high-speed conveyor tracking, powerful vision guidance, and application software created for the packaging market. The Hornet is a parallel robot used for high-speed picking and packaging applications and primary and secondary food packaging. The powerful controls are fully embedded into the base of the robot, saving valuable floor space and reducing installation costs and complexity. It features a hygienic design that minimizes contamination risks, including a standard IP65-rated work area and corrosion-resistant materials for easy washdown. The robot can be programmed directly from a PLC, minimizing training and deployment time by using familiar ladder logic programming languages.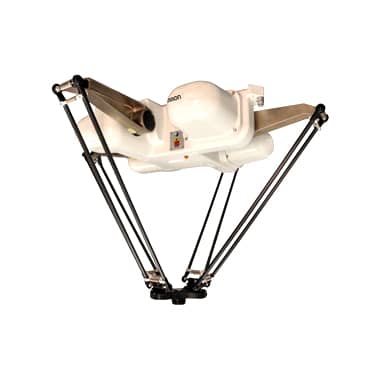 Omron Adept Quattro Parallel Robot
The Omron Adept Quattro robot is the only parallel (or delta robot) in the world that is offers Omron's patented four-arm rotational platform and is USDA/FDA approved for meat and poultry processing. The Quattro Parallel robots are designed for high-speed applications like  packaging, manufacturing, assembly, and material handling. They deliver maximum speed and acceleration with exceptional performance across the entire work envelope. The compact controls and embedded amplifiers provide an extremely efficient footprint and  simplifies installation.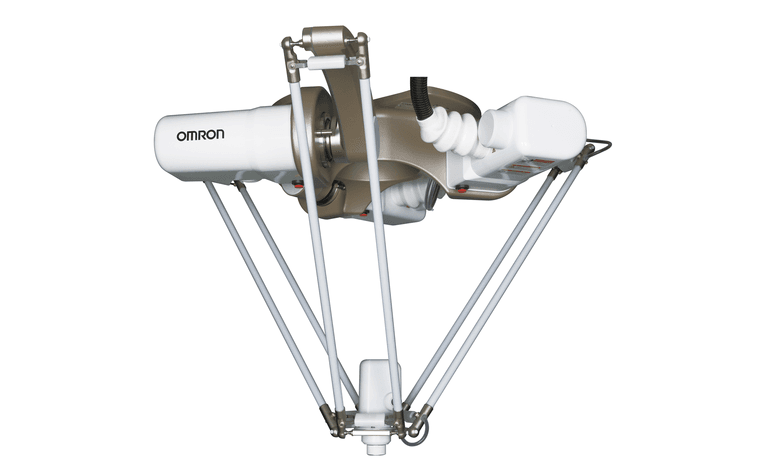 Omron offers 3 types of Delta robots: Delta, Mini Delta and Washdown robots. Omron's Sysmac Delta Robot is the fastest picking system in the Sysmac platform achieving up to 200 cycles per minute. It can be synchronized with multiple conveyors to perform impromptu Pick & Place operations.  Robot control is integrated in Omron's NJ  controller which can control up to 8 Delta robots with one controller.  or 1 ms when controlling up to 4 robots. These Omron Delta robots are low maintenance and have components that are easy to access.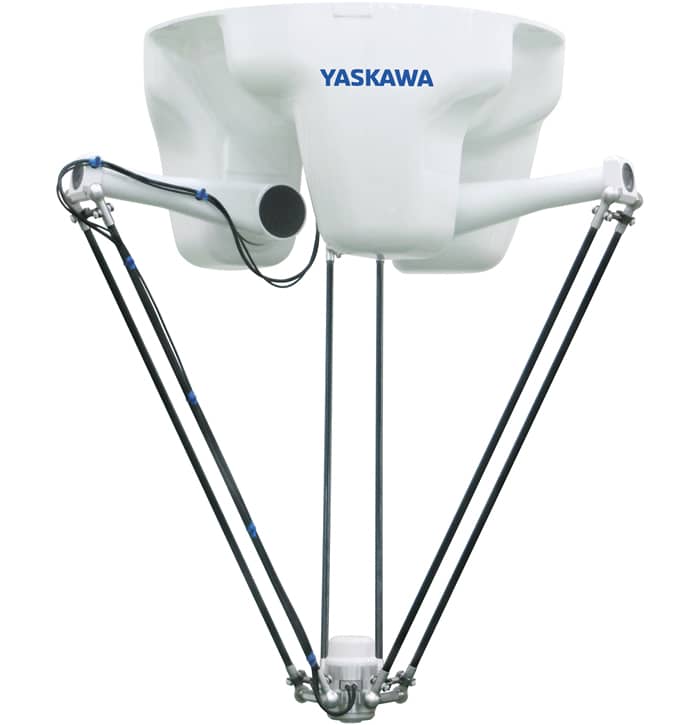 Yaskawa Motoman MPP Series
Yaskawa Motoman's MPP3S series is a high speed delta robot that is  designed for high-speed picking operations like pick and place, kitting, assembly, packaging and cartoning. It's CPM rate includes 0.04 second per cycle for part acquisition and release. The  Motoman MPP3H series is ideal for packaging applications like pick & pack, pick & place, assembly and part transfer, with performance optimized for payload. Both models have a compact, zero-footprint design for high-density work spaces and can be adapted for many application layouts. Because the MPP series has NSF-H1 certified food-grade lubricants and anti-corrosive coating, it offers greater application flexibility and can handle a wide variety of products.
Omron Demo: Adept Quattro Parallel/Delta Robot
Omron Hornet 565 Parallel Robot Picking & Packaging Applications
Let us help find what you need.