HMIs & All-In-One HMI+PLC
HMI  |  Human Machine Interface  |  All-in-One combined HMI AND PLC
Human Machine Interfaces or HMIs allows operators to interface with a system or machine visually using graphics to clearly display system conditions, status updates, monitoring, reporting and more. Not only do HMIs improve productivity, but they are also easy to understand and operate. HMIs range from basic panels to advanced touch screen panels, as well as Panel PC, Box PC, and Rack Mount PCs. Basic HMIs are ideal for basic machine control that doesn't require advanced software. Advanced touch screen HMIs include a library of buttons, dials, graphics, etc. that can be easily placed on the screen often by simply dragging and dropping.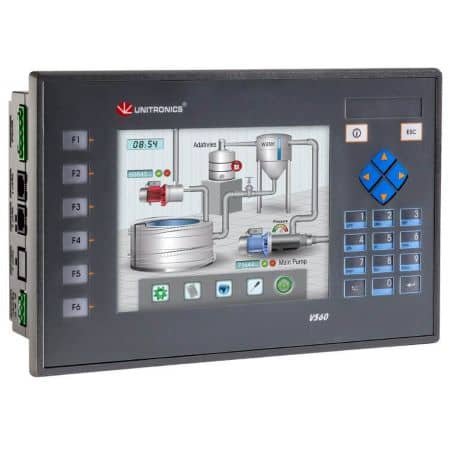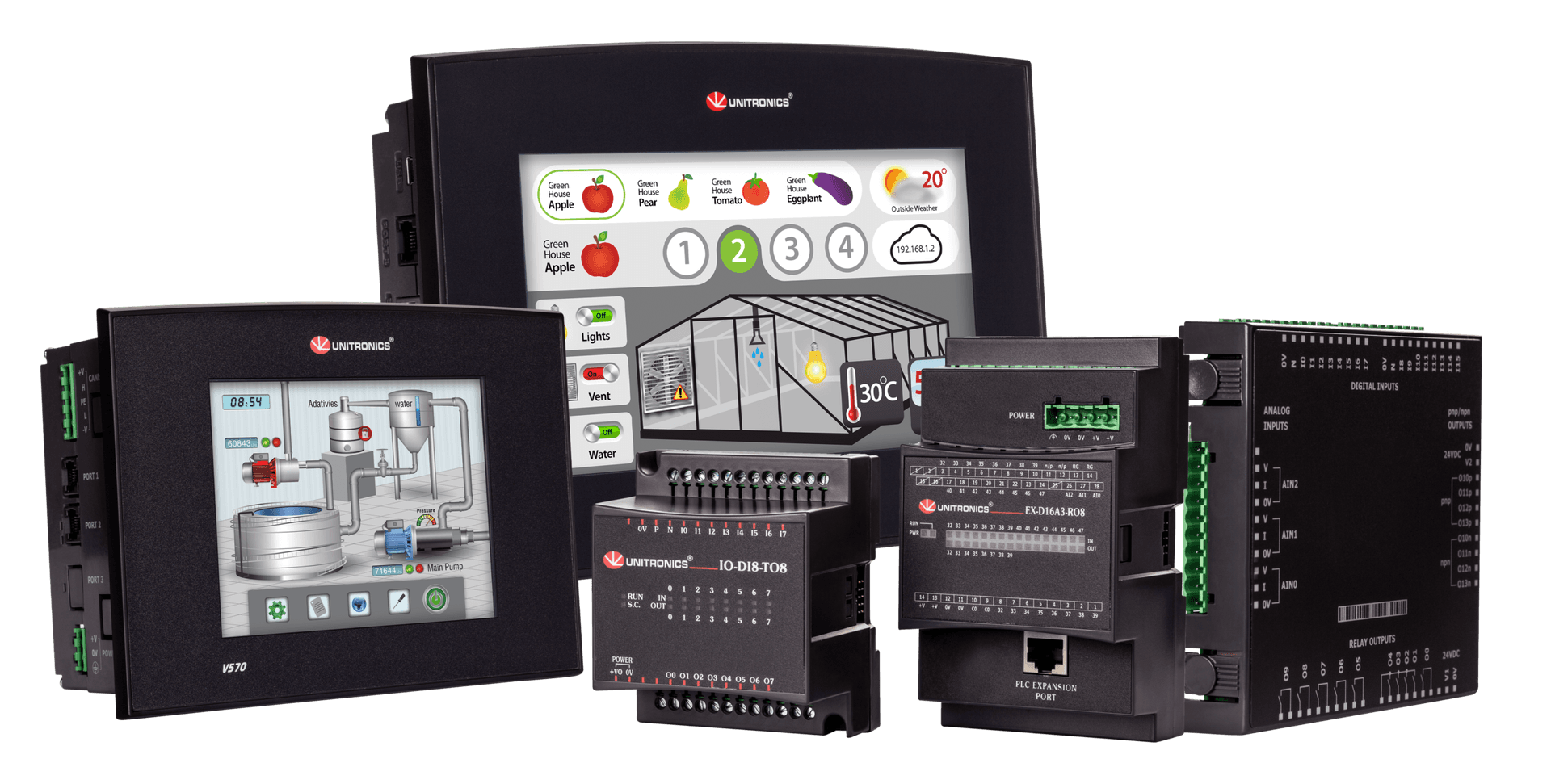 Unitronics' Vision Series hardware has a model to meet any advanced control project need. The compact Vision All-in-One controllers offer a broad range of built-in I/O configurations. Larger-screen Visions support a variety of I/O modules that snap onto the back of the controller to supply onboard I/O. All Vision programmable controllers are expandable. I/O Expansion Modules can supply digital, relay, high-speed, thermocouple and load cell.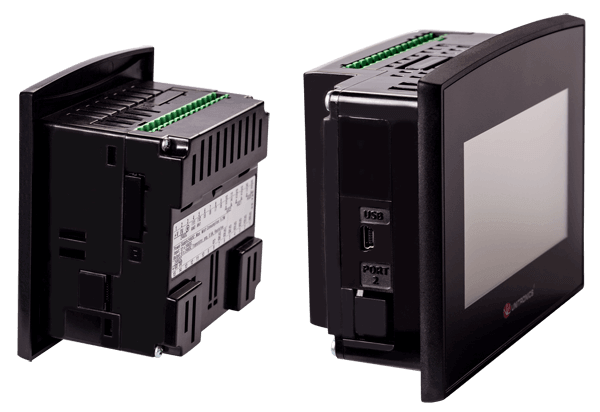 Boost the price/profit ratio with award-winning Samba! It's a perfect fit for any small machine or simple project that requires a true PLC controller and a high resolution HMI color touchscreen.Upgrade your low-end projects with an elegant HMI screen, without sacrificing PLC functionality. It offers a range of on-board I/O configurations. The flat fascia is compliant with IP66/IP65/NEMA4X and is an excellent fit for food & pharmaceutical applications.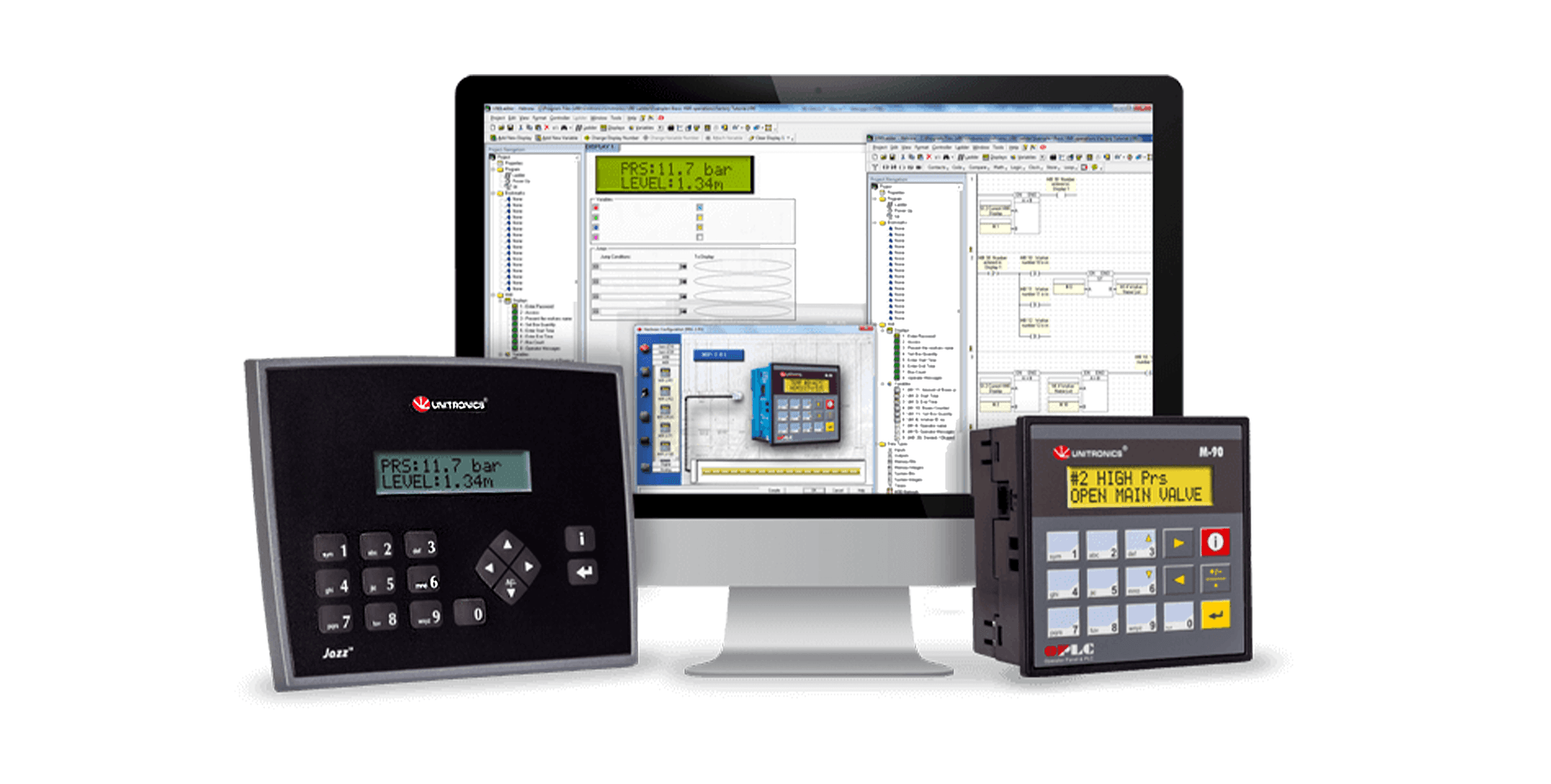 Unitronics Jazz® and M91™
Unitronics' Jazz ® & M91™ PLCs are programmable controllers with onboard I/Os and a built-in HMI panel that are designed to control small machines and automation tasks. Compact, economical–low-budget control without compromising on features. They offer 2 lines x 16 characters text display with an embedded keypad. They also offer a range of on-board I/O configurations and high-speed and temperature options. The M91 programmable controllers are scalable and compatible with a full line of I/O expansion modules.
Omron's NA HMI Series transforms machine data into information. It features a wide screen that makes industrial machines more attractive and competitive. The NA series has full security and authentication features that keep your valuable assets secure and if something unexpected does happen, in your machine you will be able to solve the problem quickly and prevent a re-occurrence. The NA Series brings everything together through rich media including PDF, video, and data to provide an intuitive and proactive machine management tool with a machine view that's understandable at a glance.
Let us help find what you need.