Machine automation controllers are designed to speed up integration time, boost system flexibility, and enhance overall performance. Below is a wide selection of machine controllers from our manufacturer partner, Omron. Our automation engineers can help you select the right controller for your application.
Omron's NJ and NX machine automation controllers are the perfect fusion of machine control and information control to boost manufacturing innovation.
Operating status can be displayed in real time using familiar software such as Microsoft® Excel.

No SQL knowledge required

Real-time data collection

Machine behavior can be monitored more accurately.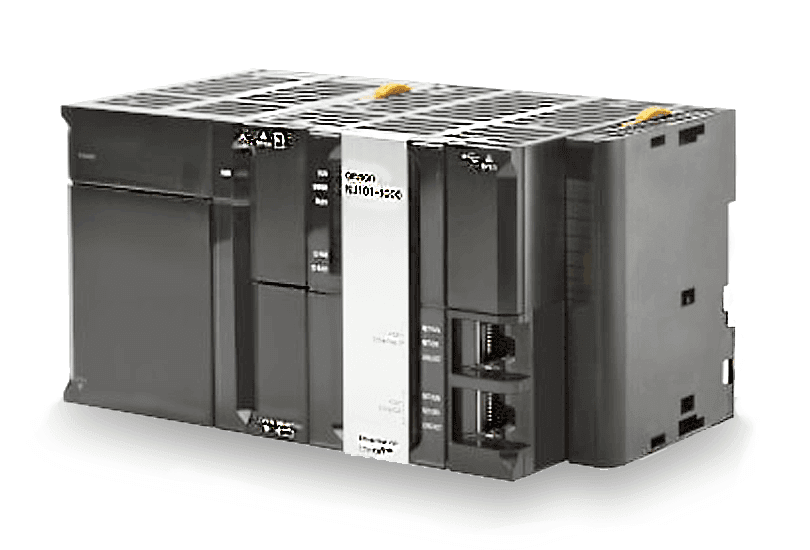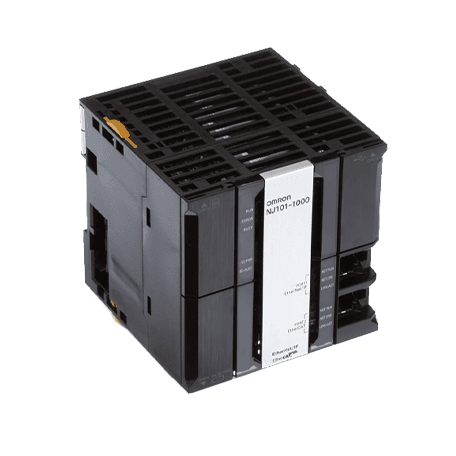 NJ1 Machine Automation Controller
The NJ1 machine controller is Omron's entry level Sysmac CPU designed for small applications and to address basic industrial controller applications. Includes options for direct database connectivity with built-in EtherNet/IP & EtherCAT and up to 2 axes of motion. The NJ1  improves engineering integration time, system flexibility, and overall performance. The built-in SQL client directly connects to the database, and offers few or no motion control axes, to deliver a cost-effective solution for real time data collection and reporting. Ideal for reliable data logging and quality control traceability. The NJ1 is configured, programmed, and commissioned using Sysmac Studio software.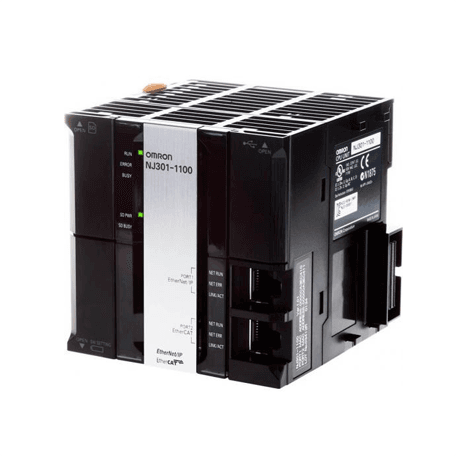 NJ3 Compact Machine Automation Controller
The Omron NJ3 series is a Machine controller for small to mid size applications. It's been completely redesigned with a powerful Intel Atom processor and ultra-compact technology that provides flexibility without compromising reliability.  A typical system built around an application specific integrated circuit (ASIC) can be difficult to change and enhance. The NJ-Series hardware has been designed to adapt to the quickly changing demands of a machine automation controller. This adaptability virtually guarantees a future-proof system that can lead today's automation technology and trends.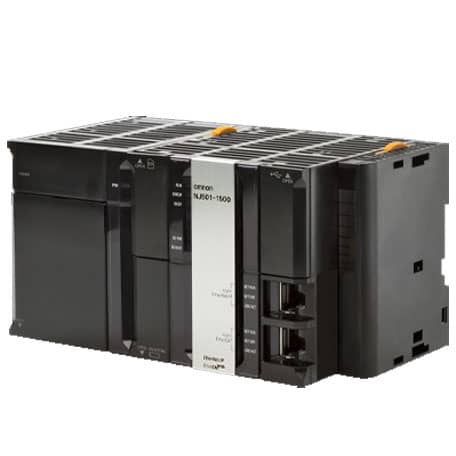 NJ5 Compact Machine Automation Controller
Omron's NJ5 series controller is Omron's flagship controller and offers the functions and high-speed processing required for machine control and safety, reliability and maintainability. Provides fast and accurate control by synchronizing all EtherCAT devices, such as vision sensors, servo drives, and field devices, with the PLC and Motion Engines. With the NJ5, you get speed without compromising on reliability and programming variables that allow users to efficiently create complex programs. Conforms to IEC 61131-3 standard programming and PLC open function blocks for Motion Control.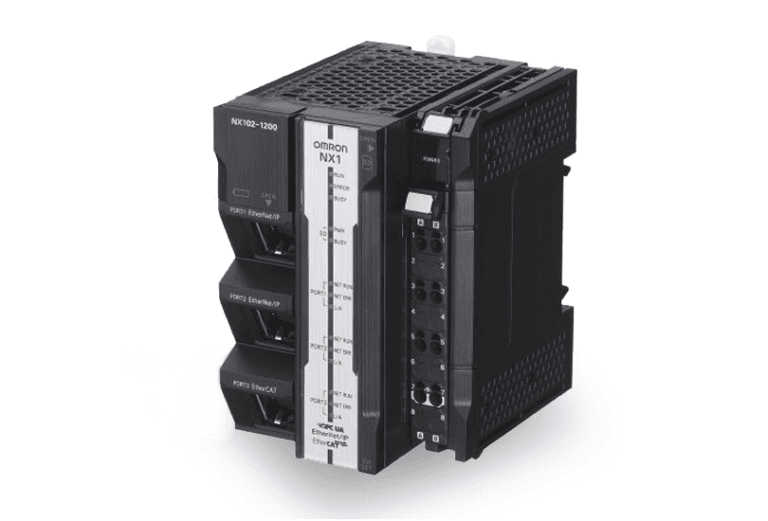 Jump start data acquisition and analytics projects with the Sysmac Starter Kit that includes the NX1 Controller, HMI, software and accessories. It gives you everything you need to to design a complete project in which the core automation components work together seamlessly, minimizing integration time and setting a solid control foundation for future expansion and increased performance. The kits come with a single-license configuration software, additional hardware such as network couplers, power supplies and cables are bundled inside the kit depending on the selected controller. Choose your I/O separately from the wide range of NX I/O units available.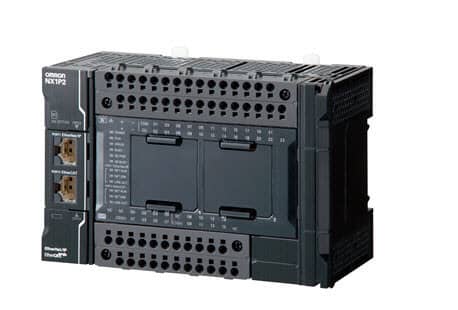 NX1P Machine Automation Controller
The NX1P entry-level all-in-one machine automation controller is designed for machine builders and OEMs who want the Sysmac integrated platform to control logic, motion, vision and safety in a single unit. It is equipped with 24 or 40 local I/O built in and four to eight motion axes. To connect the machine to the plant floor, the controller provides built-in open interfaces for both EtherNet/IP and EtherCAT networks. I/O expansion can be done locally or remotely using NX-series slice I/O that includes an IO-Link master unit to gather data for preventive maintenance and IIoT migration.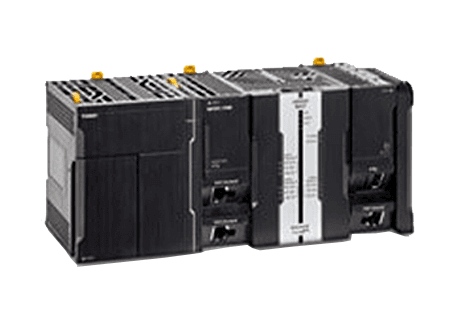 NX7 Machine Automation Controller
The NX7 machine automation controller is the highest performance Sysmac CPU, designed to address the most demanding industrial control and motion applications, laying the infrastructure for Big Data support. At the same time, the high capacity controller showcases the Sysmac core values of improving engineering integration time, system flexibility, and overall performance. Create complex control systems with 125us scan time built on an i7 processor for information control and machine control applications.
Remote I/O
Reduce wiring costs, simplify troubleshooting and minimize downtime with Omron's high-density I/O modules and socket-based I/O products.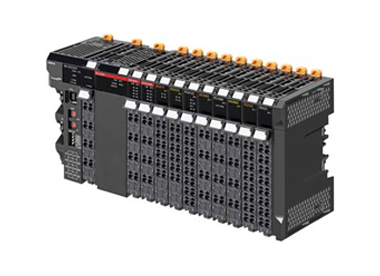 Omron NX Series Modular I/O
Reduce wiring costs, simplify troubleshooting and minimize downtime with Omron's high-density I/O modules and socket-based I/O products. The NX I/O system offers a wide variety of high density I/O devices for use with EtherNet/IP or EtherCAT master controllers.
Ideal match with Sysmac Machine automation controllers
Synchronous I/O updates, with less than 1 µs jitter
High density: up to 16 digital or 8 analogue signals in 12 mm width
Removable wiring terminals for easy system assembly and testing
Omron NX1P Machine Automation Controller​
OMRON Sysmac NJ1 and NX7 Conrollers
Let us help find what you need.