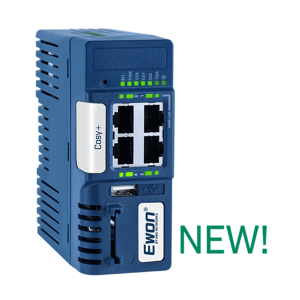 Ewon by HMS Networks has released a new industrial VPN gateway, Ewon Cosy+ ETH, the latest evolution in remote access for Industrial Internet of Things. The Ewon Cosy+ offers improved security that meets the highest IoT standards and has a straightforward setup, which makes any machine IIoT-ready in a matter of minutes. The Cosy+ ETH (part number: EC71330_00MA) features 4 ports (4*RJ45: 1 LAN and 3 WAN/LAN) and a list price of $656.00. To purchase visit the MSI TEC website here.
Security Features
Built-in Secure Element chip, to protect secrets and provide a Hardware Root Of Trust. Hardware Root of trust brings security to the core of the hardware. The combination of this approach with the highly secured industrial Cloud Talk2M allows Ewon to bring industrial remote connectivity to a level never seen before.
Certificate that prevents cloning and counterfeiting.
Secure boot sequence to ensure that only code signed by Ewon is executed.
Strong encryption of all communications with Talk2M./li>
Machine LAN segregation to ensure that remote users can only access the target equipment.
Local control of the remote connectivity by the end-user with an external key switch.
Increase safety with the digital output indicating an active remote connection.
Benefits
Easy to reach your equipment in just 2 clicks
Setup is quick – make any machine IIoT-ready in a matter of minutes.
No hidden costs – free Talk2M account that supports unlimited number of devices and users.
Using the Ewon Cosy, you can remotely connect to your PLC using its Ethernet port or its USB interface.
Connect from any device, with the free desktop, web and mobile apps.
Manage the connectivity of all your machines and collaborators from one place.
Scalability: add at any time as many devices and users as you need.
Email & SMS relay services, to receive notifications from your machine.
Ewon Cosy is proven on the factory floor with Omron, Schneider (Novanta), and many more.