General Purpose   |  Safety   |  Terminal   |  I/O Relays  | Solid State
Relays are a device that makes or breaks electric circuits with a contact. Relay contacts are opened and closed by the movement generated in the coil. The coil receives an electric input signal from a controller or other device that switches the contacts. A wide range of products are available for the purpose of using one input voltage signal to switch a second voltage output signal. Multi-pole Relays provide high capacity and high dielectric strength for reliable, maintenance free operational life.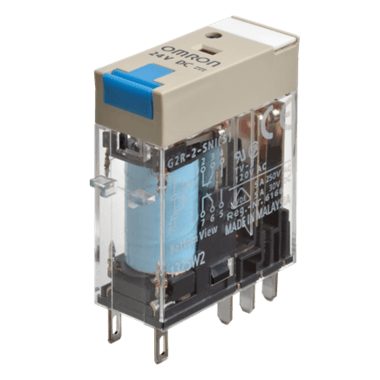 OMRON provides safety relays, general-purpose relays, terminal I/O relays, power relays, and latching relays. A wide range of relays are available in each category for the purpose of closing contacts or load switching. Multiple series of relays are available within each category to suit various applications. Two, Four, or Six pole relays provide high capacity and high dielectric strength.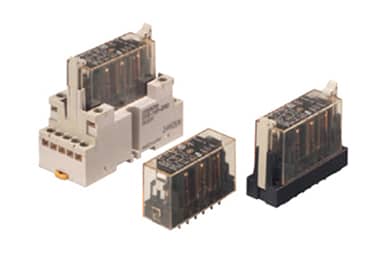 All safety monitored equipment require safety relays to ensure control reliability for facilities and their equipment. Safety relays have unique features versus a traditional industrial relay. Safety relays are designed to always fail to a "Safe State". Safety Relays are a very specific product for their forcibly guided and auxiliary monitoring contacts. "Force guided relays" is a fancy term for mechanically coupling all contacts in the safety relay and provides auxiliary contacts for monitoring circuits. Auxiliary contacts provide the required feedback to a safety controller to indicate which position the relay's contacts are in. Mechanically coupled means no one contact can switch without all contacts switching together. It's these 2 features that enables a safety controller to detect if contact welding has occurred, or other issues are present. Contact welding is the normal mode of failure that will occur at the end of the a relay's operational life. Omron offers 3 types of Safety Relays:
Compact, Slim 6A Relays with Push Conforming to EN Standards with Socket or PCB mount
Relays with High Switching Capacity of 10A
Power Relays with Auxiliary contacts 40A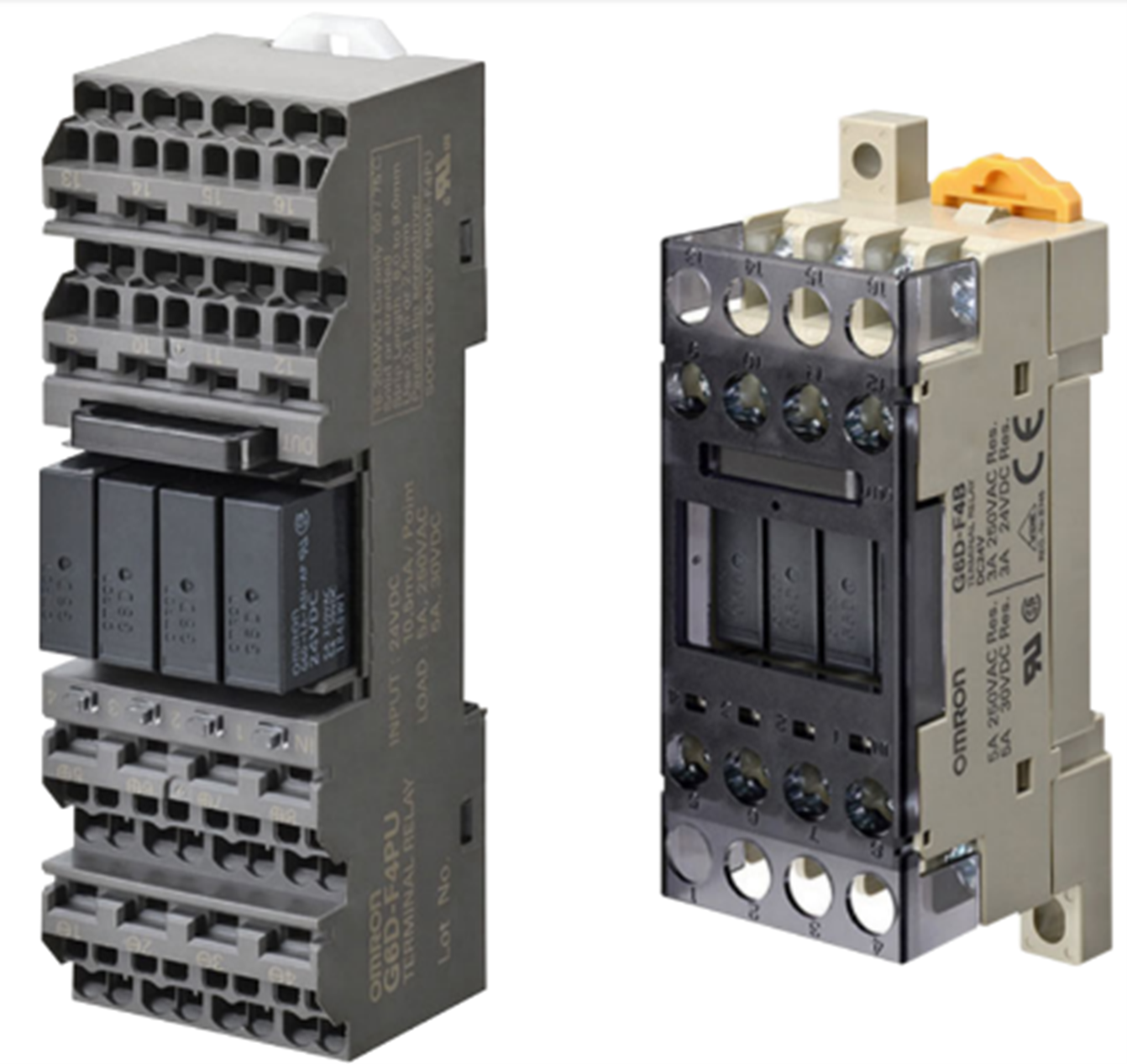 OMRON's Terminal Relay Series contributes to simplifying wiring and saving space in control panels. They are ideal when grouping four relays together. All 4 separate relays have 5A rated contacts. This compact footprint takes up little space on the Din-Rail or Wall mount. Options include Electromechanical relays or Solid State relays. You can order them with screw clamp terminals, or the newest Push-In Plus technology.
Push-In Plus terminals offer fast connection of ferruled wires without any tools. Push-in Plus enables work reduction and requires no retightening. Double wire method can be used for branch wiring
LED operation indicator, diode for coil surge absorption, and tools for easy removal of relays are included as standard equipment
Short Bars (order separately) ensure easy common wiring and crossover wiring to adjacent terminal relays
Each relay has independent coils and contacts for PLC output compatible (both NPN and PNP).
Mechanical Relay models and power MOS FET relay models (for high frequency contact ratings) are available.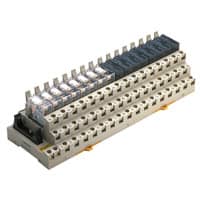 I/O Relay Terminals simplify connecting controllers and help reduce wiring in control panels. Achieve wiring with one Connecting Cable from the PLC to the I/O Relay Terminal. Terminals are available for both PLC inputs and outputs. Using I/O relay terminals simplifies installation, maintenance and troubleshooting of your control panels. They support up to 16 independent electromechanical or solid state relays with options for screw terminals or Push-In Plus terminals to downsize control panels and save labor. Omron also offers space-saving and labor-saving 8-point I/O relay terminals.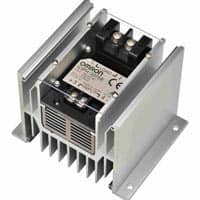 Solid-state relays are contactless relays for high-speed and high-frequency operation and offer the widest range of applications. Relays for heater control enable high-precision, high-frequency temperature control for molding machines, reflow ovens, and sintering ovens. They are available with fault detection and cyclic control. OMRON Solid-state Contactors provide smooth starting and stopping functions to suppress sudden motor operation and thus reduce mechanical stress. They are ideal for electric heater and temperature control applications and other applications where frequently switching loads occur. Socket/Plug-in type relays are suitable for high-frequency switching, signal exchange with controllers, and other I/O applications.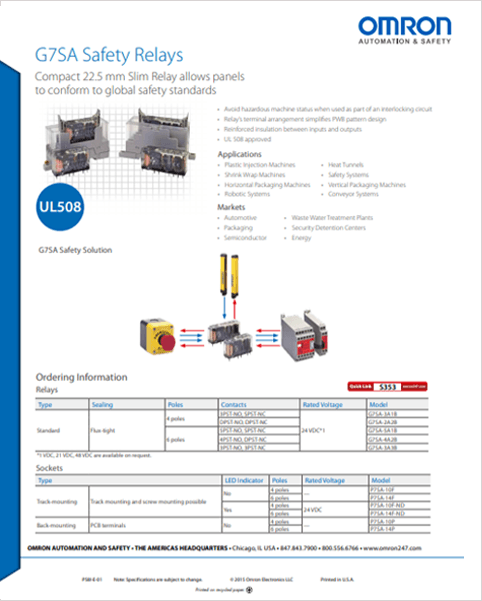 G7SA Safety Relays are compact 22.5 mm Slim Relay allows panels designed to conform to global safety standards. Avoid hazardous machine status when used as part of an interlocking circuit. Relay's terminal arrangement simplifies PWB pattern design.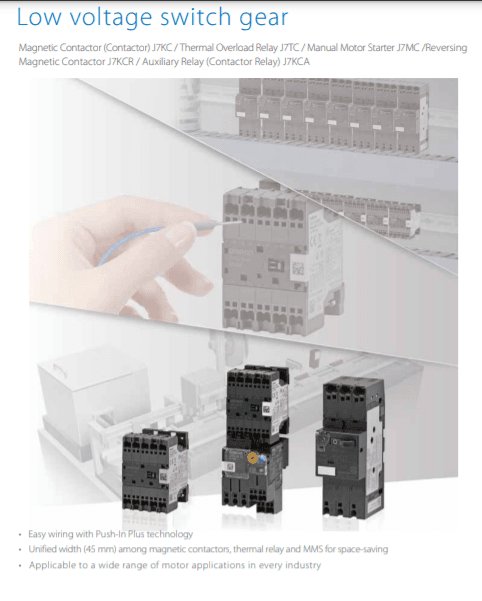 Innovation in control panel technology spurs evolution in production facilities overall. Magnetic Contactor J7KC / Thermal Overload Relay J7TC / Manual Motor Starter J7MC /Reversing Magnetic Contactor J7KCR / Auxiliary Relay (Contactor Relay) J7KCA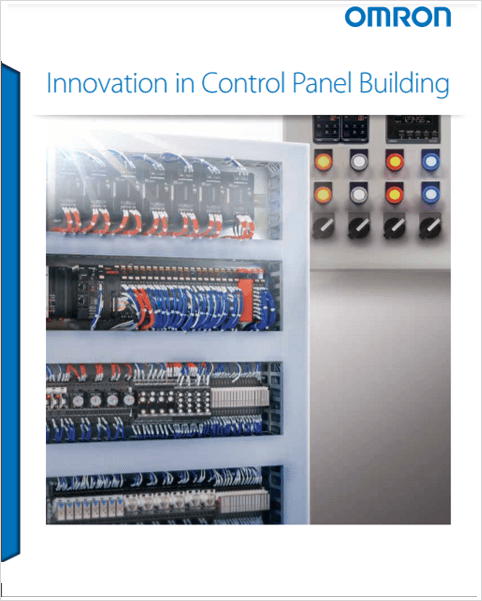 Recent evolutions in control panel design and manufacturing are benefiting panel builders as well as end users and machine builders, resulting in an evolution within production facilities that reduces total cost of ownership.
Let us help find what you need.