Collaborative Robots for Manufacturing
The TM Series is the only cobot on the market with a built-in vision system. Operators with no programming experience can be trained quickly and easily. It can handle many tasks like packaging, machine tending, assembly, welding, painting, buffing, or palletizing.
TM Cobots offers flexible manufacturing and the convenience of built in Vision
With Omron's TM Series of Collaborative Robots, you can avoid the hassle of integrating external cameras or software. They're uniquely designed for flexible manufacturing and offer 25 different application tools. The TM Series is the only cobot on the market with a built-in vision system. Watch the video to learn more.
Medium-Heavy Payload Series
What Makes TM Robots Different?
Designed to work with both humans and machines
Take Control with TMflow
TMflow lets you take full control of your production or assembly lines. It's a user-friendly, flow-based editing software that allows you to program with simple click-and-drag motions. With TMflow, you can create your own cobot projects without any coding.
No Experience Necessary
Patented technology lets operators with no coding experience to quickly learn and program their first robotic task. Operators with zero programming or IT background can program a project in just five minutes.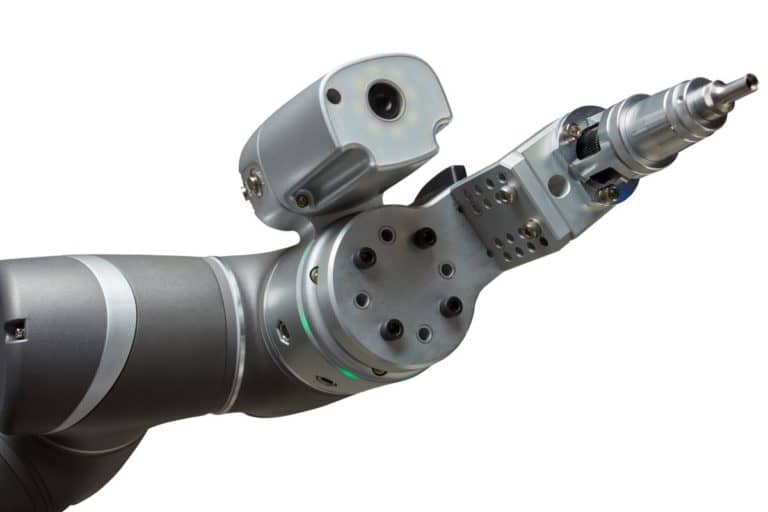 Creating robotic vision solutions can be challenging, both from a hardware configuration and software development perspective. The Omron TM Series is the only collaborative robot on the market with a built-in camera and light, which greatly simplifies this process. These integrated vision tools allow users to dive directly into building projects without the headache of sourcing and configuring 3rd party, external cameras for your cobot.
No prior programming experience necessary.
Easily redeployed to different tasks.
Relocate between tasks and work spaces with minimal downtime.
Dedicated vision button on the wrist can be used to teach vision tasks.
Omron TM cobots are designed to be easy and naturally intuitive. With click-and-drag graphical programming, hand guidance, and intelligent vision, users can set up simple applications in just a few minutes.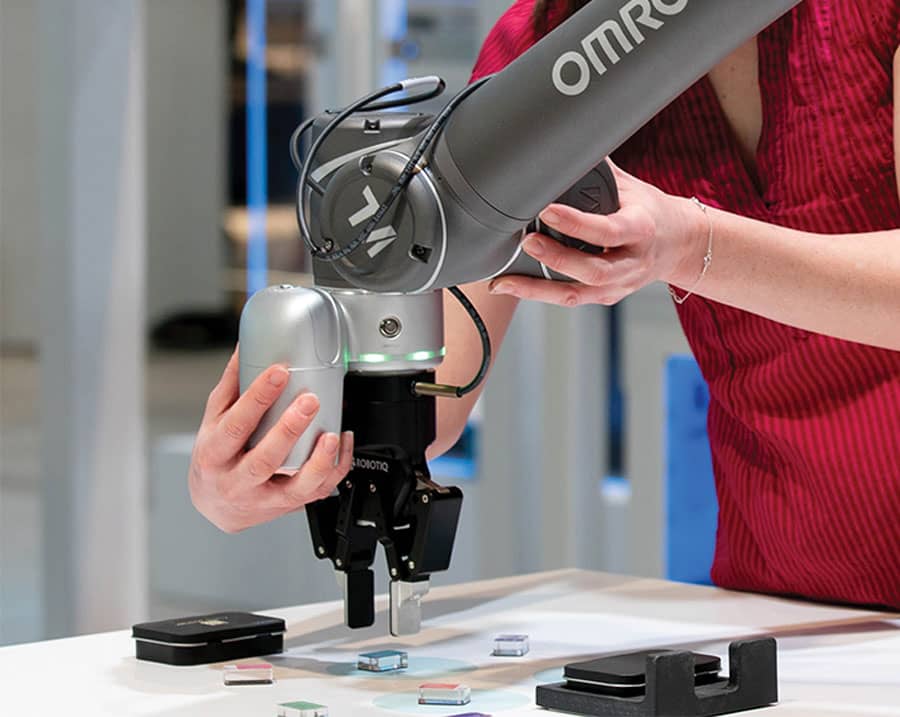 Graphical Programming
Intuitive programming allows users to automate a task with flow-based software, creating full workflows with a click-and-drag method.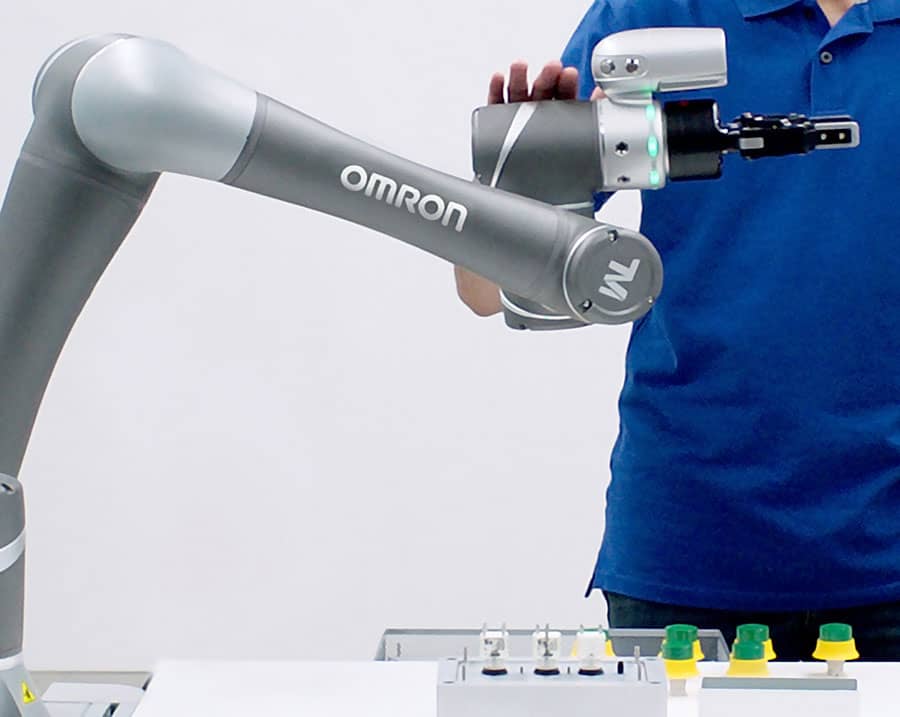 Hand Guidance
Hand guidance mode allows users to set points, assign tasks, and guide the robot into position and automatically record the position in the software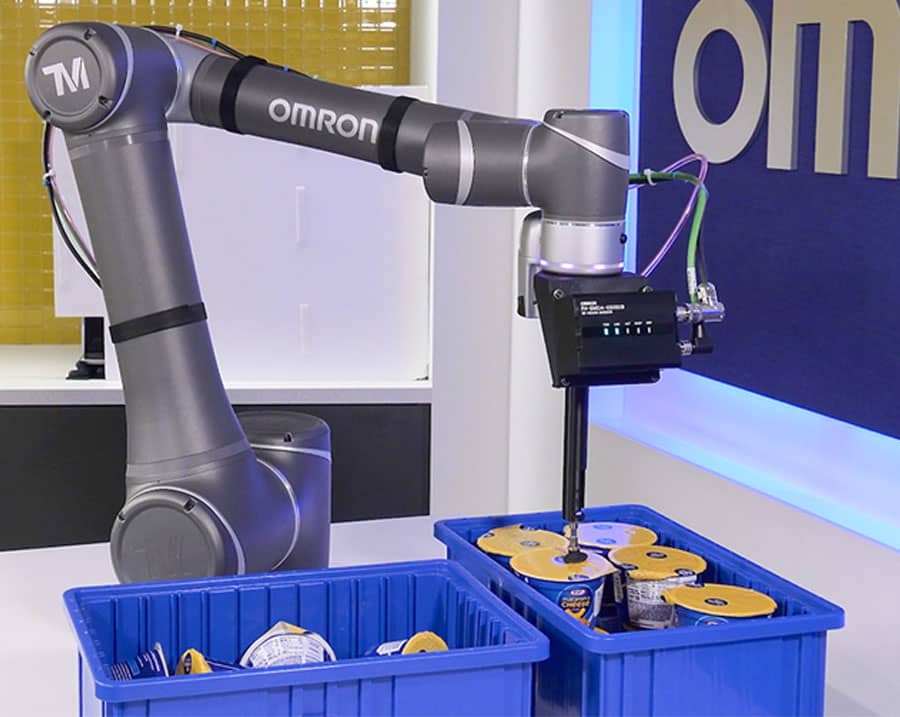 Intelligent Vision
Our built-in vision system allows for quick setup of pick-and-place tasks, with the help of easy hand guiding and landmark positioning.
Industries & Applications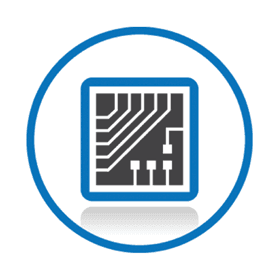 Semiconductor & Digital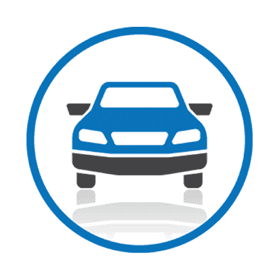 Automotive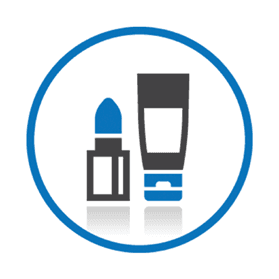 Food & Commodities
Applications
Assembly: Omron's TM cobots improve throughput and consistency of repetitive or complex assembly tasks including part joining, insertion, tool changing, and working alongside people.
Palletizing: The TM Series are  space-saving cobots can streamline end-of-line case stacking onto a pallet.
Packaging: Use TM cobots for inspecting and sorting products. Quickly adapt production lines to new products or seasonal models.
Machine Tending: Relieve workers from repetitive and dangerous tasks by using cobots to tend CNC machines, injection molding machines, stamping & punch pressers, grinding, and cutting machines.
Pick and Place with Inspection: The TM series features built-in vision system that allows for easy pick-and-place and inspection, without the need for installing additional cameras or lighting equipment.
Screwdriving:  A complete ready-to-use solution is provided with a screw driving kit and pneumatic control box.
Let us help find what you need.
Smart, safe and simple to program
The TM Cobot Series are safer, simpler to program, and easier to integrate with other equipment, taking you a step closer to creating an intelligent manufacturing environment where people and machines work in harmony.
Omron TM cobots are designed for manufacturers seeking to boost production and reduce employee fatigue by automating repetitive tasks such as machine tending, loading and unloading, assembly, screw driving, gluing, testing or soldering. Whether you're working in automotive, semiconductors, plastics, machine tools, or food and medical packaging, the Omron TM Collaborative Robot can adapt to any industry, helping you to become more productive and competitive.