Expand your connections with Moxa's 3.2 USB-IF certified hubs for better reliability.
Moxa's new UPort 400A and Uport 200A series expand USB ports into 4 or 7 USB ports with USB 3.2 SuperSpeed.
The industrial grade UPort 400A and the general-purpose UPort 200A USB 3.2 hubs are designed to meet the higher speed demand of USB connections in applications such as testing and inspection, medical, process automation, CNC, and more. These new USB 3.2 hubs from Moxa are the only industrial USB 3.2 hubs that have obtained USB-IF certification in the world.
Moxa Uport 400A Benefits
The UPort 400A offers wide operating temperature from -40 to 85°C and true USB 3.2 Gen 1 SuperSpeed 5 Gbps data transmission rates through each port, even for heavy-load applications. The new latch and screw cable provides a firmer connection between the Uport USB hub and your computer. The UPort® 400A hubs support a 12 to 48 VDC power range, which make them ideal for mobile applications. Externally powered USB hubs are the only way to guarantee the broadest compatibility with USB devices.
Moxa Uport 200A Benefits
The UPort 200A Series offers cost effective options for non-critical applications, yet still supports BC 1.2 for higher power output and same 2kV (EFT) and 1kV (surge) protection as 400A series. It is BC 1.2 compatible on port 1, providing 1.5 A charging power to the mobile device/power bank that also supports BC 1.2.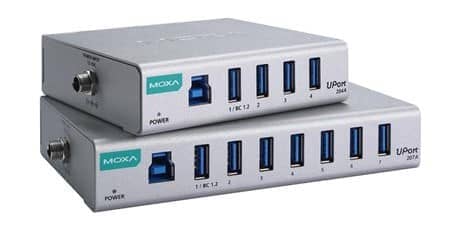 The Uport 200A series is a general-purpose USB Hub:
Expands a USB port into 4 and 7-ports
USB-IF certified
USB 3.2 SuperSpeed capability
BC 1.2 compatible (up to 1.5 A charging power)
DIN-rail housing and wall-mountable housing
Rugged metal housing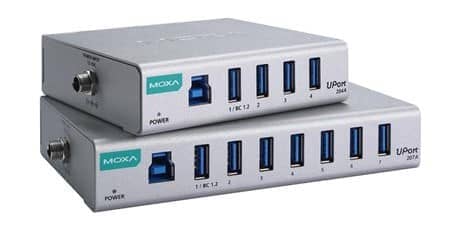 The Uport 200A series is a general-purpose USB Hub:
Expands a USB port into 4 and 7-ports
USB-IF certified
USB 3.2 SuperSpeed capability
BC 1.2 certified by USB-IF
Latching USB cable design for firmer connection
Dual power inputs (power jack and terminal block)
DIN-rail housing and dual wall-mountable housing
Rugged metal housing