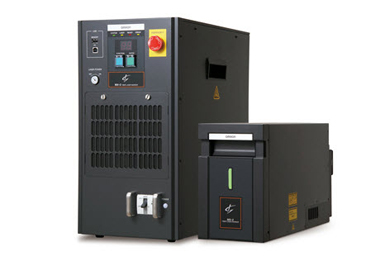 Omron MX-Z Fiber Laser Marker offers precise and permanent marking on metal, plastics, resins, plastic films and more.
The requirements for high quality and permanent identification systems are driven by the need for manufacturers to trace their products in case of a recall or for process and supply chain visibility. Omron fiber laser markers provide a flexible and reliable method for permanently marking parts across many industries.
Flexibility, Connectivity & Integration
The MX-Z20xxH series of laser markers meets such industry demands and provides high quality, permanent identification with scaling capabilities to add functionality to the process like product traceability or position compensation for example. The MX-Z20xxH offers great flexibility in terms of marking, connectivity and ability to integrate easily to other systems or controls.
What are laser markers?
A laser marker is a non-contact device for marking physical surfaces using laser energy. Laser marking allows for a unique design and shape for each product since the label data (letters and graphics) can be edited on a computer using template creation software, and it does not wear off or peel off because it is marked directly on the product. In addition to labeling, laser markers are also used widely for drilling holes, cutting, trimming, and detailed processing.
Laser markers are used in a variety of industrial applications, such as printing 2D codes on automotive parts, logos on electronic components/electrical devices, lot numbers, and many more.
Benefits of using a laser marker
Permanent processing and marking – Laser marking is perfect for manufacturing history, process management, and other critical information. It will not wear off or peel off, because it is marked directly on the product.
High-quality, fine-detail processing and marking – This no-contact technology minimizes damage to the product, and allows high quality detailed processing and marking.
High-speed processing and marking = high productivity – Laser marking is both faster and easier than other kinds of processing or marking. It contributes more to productivity than other methods.
Operating costs of electric usage – There is no need for periodic maintenance, no ink to refill, no cleaning to be done, no blade to change or sharpen. The electric usage is the primary operating cost.
Wide range of materials and processing – Materials which can be marked include metals, plastics, resins, plastic film, and others. Labeling data can include logos, graphics, model numbers, serial numbers, 2D codes, and more.
Environment-friendly processing and marking – There is no ink, and therefore no solvent; no adhesive label, no waste disposal.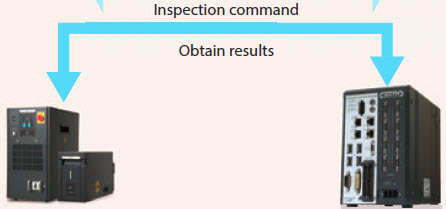 Reduce the Cycle Time and Equipment Required
Vision attachment available, enables a single vision system to find product coordinates and inspect markings, which reduces the machine cycle time and the number of vision systems required to one. Enables one point to do everything: check position of part, marking and inspection. Reduces the cycle time as the parts to be laser marked do not have to be indexed from one station to the next. Direct connectivity to Omron's vision systems. The MX-Z20xxH sends commands directly to the vision system and the vision system sends results back to the laser marker. This removes the need of a PLC (and its programming) to manage the laser marker and vision system.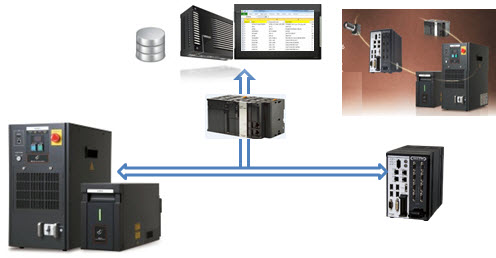 Easily Add a Traceability System
The demands for product traceability are constantly increasing and flexibility to provide such a solution is a must. The MX-Z20xxH has capabilities to easily adapt into a traceability system. Obtain marking data directly from the laser marker. Log inspection data, results as well as the images from the vision system and store them into a database for record keeping and traceability purposes. Omron provides a full solution that includes the vision system and a machine controller and SQL client to connect to an SQL database. The solution can also include Omron's IPC (industrial personal computer) where the SQL server can reside.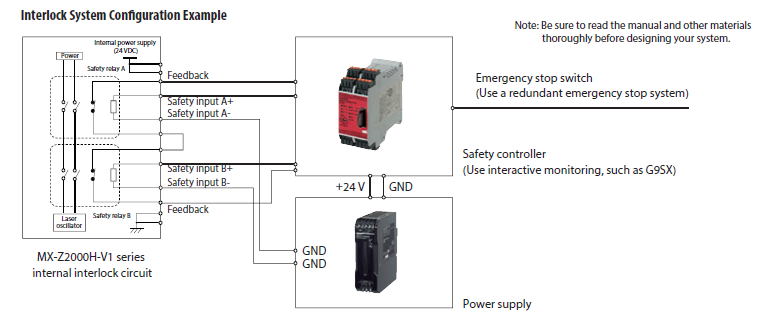 Built in Safety Relay Circuit
Built in safety relay circuit gives the ability to meet the ISO 13849 standard and provides the interlock system to shut down power to the laser in case of emergency.
Fiber Laser Marker MX-Z2000H Brochure
Learn more about a fast, simple and high-quality solution to laser marking
MX-Z2000H-V1 Laser Marker Product Guide
Learn more about the benefits and features of MX-Z Laser Marker
Laser Marker Technical Guide
Learn more about laser markers and their applications