Remote I/O
Reduce wiring costs, simplify troubleshooting and minimize downtime with Omron's high-density I/O modules and socket-based I/O products. The NX Series has a fast internal bus system that is synchronized with the Distributed Clock of the EtherCAT network. This allows machine builders to improve machine production rates and output quality.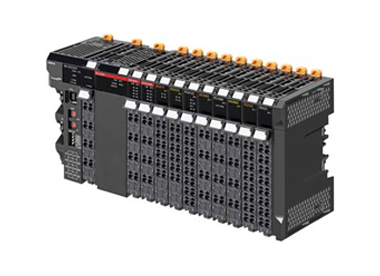 Omron NX Series Modular I/O
The NX I/O system offers a wide variety of high density I/O devices for use with EtherNet/IP or EtherCAT master controllers.
Ideal match with Sysmac Machine automation controllers
Synchronous I/O updates, with less than 1 µs jitter
High density: up to 16 digital or 8 analogue signals in 12 mm width
Removable wiring terminals for easy system assembly and testing
Networks
Omron uses EtherCAT as the control network for the Sysmac NJ Machine Controller series because of the convenience of Ethernet cabling and the fast data exchange. The openness, modularity and determinism are the key elements in today's machine automation. EtherNet/IP uses the CIP protocol over standard Ethernet infrastructure to offer efficient yet reliable data exchange. Using the EtherNet/IP bus coupler, NX-series I/O can be connected to the CJ and CS PLC series.
Design Features and Benefits:
The units are compact, with a standard width of 12 mm per unit, yet offer up to 16 channels per unit
The front connectors feature toolless push-in wiring with 8 mm ferrules for wire up to 1.5 mm2
The terminals are removable to allow pre-wiring and safe step-by-step testing
Matching labels on unit and connector reduce the chance of incorrect assembly
Insert 6 keys in the terminal and unit to mechanically prevent a mismatch
Performance
Each set of the NX-series I/Os on an EtherCAT coupler counts as a single EtherCAT node so network performance is not affected by the number of installed I/O units. Keeping the number of EtherCAT nodes to a minimum helps to keep the refresh cycle times of EtherCAT motion axes as low as possible, even at high I/O counts. Local fault or damage to an I/O unit will not affect other EtherCAT nodes down the line. The internal bus of the NX-series is fully synchronised with the EtherCAT Distributed Clock, which assures exact timing of any input or output unit in the control system to within 1 µs.
Digital I/O
Mix standard economical I/O's with synchronous models. The standard digital I/O's have 16 connections per unit, with a choice of:
3-wire sensor connection with power supply (4-channel units)
2-wire contact inputs or actuator outputs (8-channel-units)
1-wire connection for sensors and actuators already connected to a common power supply (16-channel units)
High-speed I/O's all use 3-wire connection, and have On/Off response times of less than 300 ns. Using the EtherCAT Distributed Clock, all inputs can be latched, and outputs can be controlled synchronously, with less than 1 µs jitter. For even more control over the exact I/O timing, time-stamp inputs will tell you the exact time of each signal transition. Time-stamp outputs anywhere in the EtherCAT network can be independently controlled with sub-microsecond accuracy.
Analog I/O Units
Input signals from analogue sensors, 4-20 mA transmitters, thermocouples or resistance thermometers can easily be connected and used for monitoring, data logging, trending or PID control.  With eight inputs in just 12 mm width, the NX-series are among the most compact modules on the market.
Position I/O Units
A variety of encoder signals can be connected, from incremental to Synchronous Serial (SSI) encoders. The ability to synchronize the position data with the EtherCAT Distributed Clock means that the encoder can be used as a motion axis for gearing or following. Pulse outputs up to 500 kHz can be used for discrete control or positioning and can also be mapped as a motion axes when used with the Sysmac NJ machine controller.
Omron NX I/O Quick Tip Videos
NX I/O Pulse Out Program Example Without Servo Axis
NX I/O Pulse Out Setup with EtherCAT w/o using as a Servo Axis
NX I/O Pulse Output Unit Setup with EtherCAT using as a Servo Axis
NX I/O EtherCAT Setup Compare & Merge
Setup NX I/O & EtherCAT Coupler Offline with Sysmac Studio
Import & Export NX IO + EtherCAT Settings using Sysmac Studio
Let us help find what you need.